**This is the last of the few Christmas posts I was unable to get out in time..
but just can't resist still posting.. hope you enjoy!**
Previous Challenge Posts
Day #5
Day #6
Day #7
Day #8
Day #9
Day #10
There can be no truer statement.
& every season my Christmas spirit gets the best of me & my baking books, & before I know it, There are 5 different kinds of cookies on my counter just WAITING to be devoured.
But out of all the yummy desserts, tasty cookies, and delicious pastries I conjure up.. the top requested.. the #1 favorite.. is the easiest of them all!
Peanut Butter Santas
1 box of peanut butter sandwich cookies

(I used

Nutter Butters)

1 (average size) bag of white chocolate baking chips

1 (average size) bag of semi sweet chocolate chips

1 bottle red decorating sprinkles

1 small pack of Red Hots candies

Wax paper

Cookie sheets or cooling racks
A good "baking team" can't hurt.. & makes for tons of fun!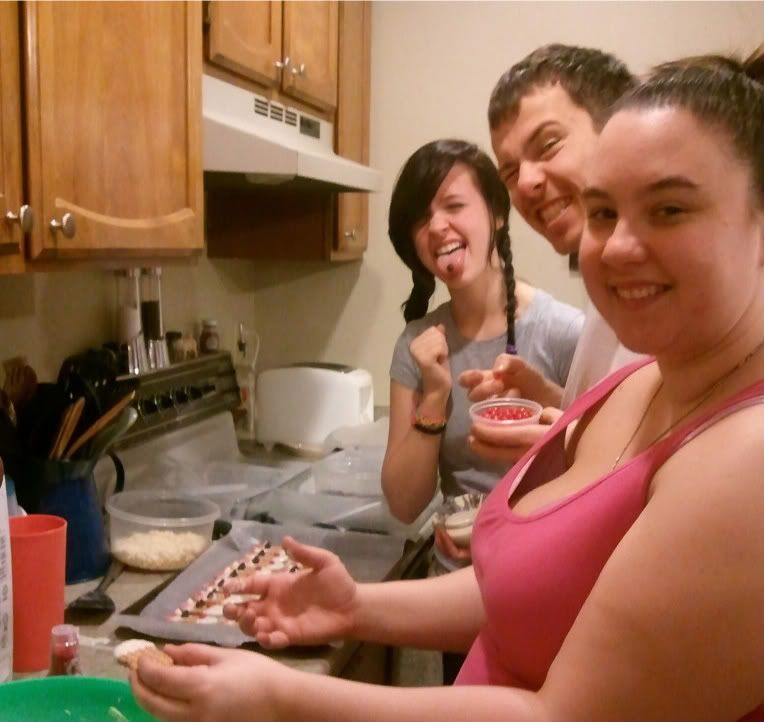 (My littlest sister Danielle & The Hubbley Ryan & I)
1. Separate some of the white chocolate chips to set aside for later. there should be enough to have one per cookie.
(1 cookie bag typically contains around 32 cookies)
2. Take the remainder of your white baking chips & place them in a microwavable bowl and heat for 20-40 seconds, stirring every 10 seconds or so until completely melted.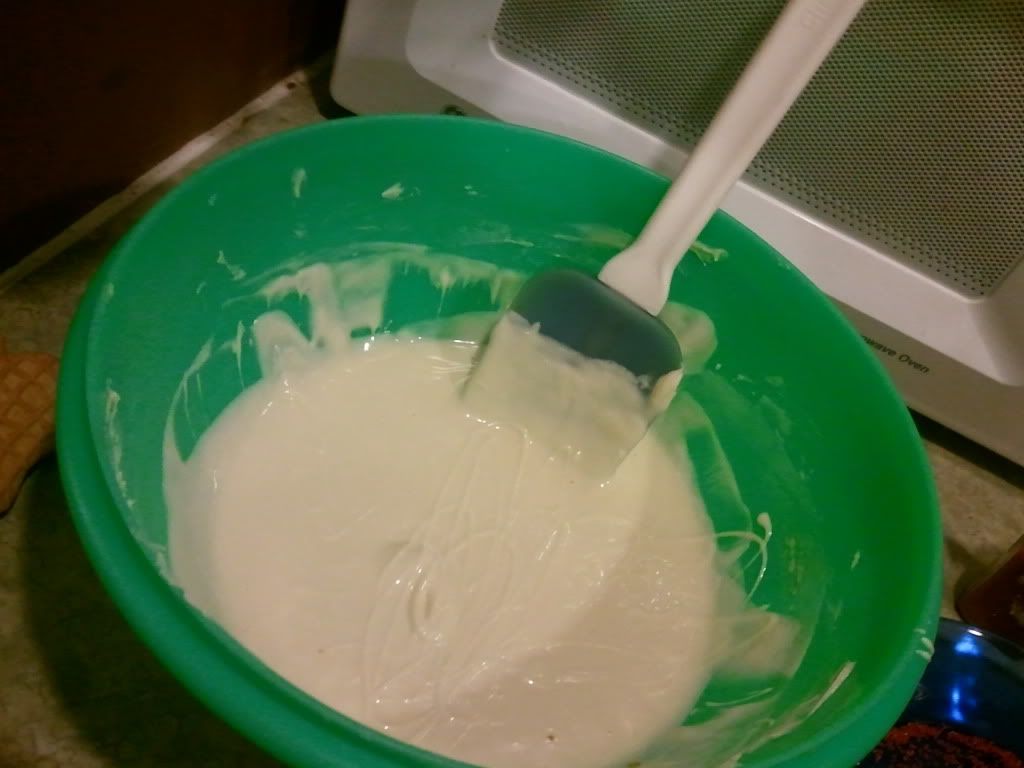 Careful not to burn chocolate. when majority of chips are melted, the rest will finish melting with just constant stirring.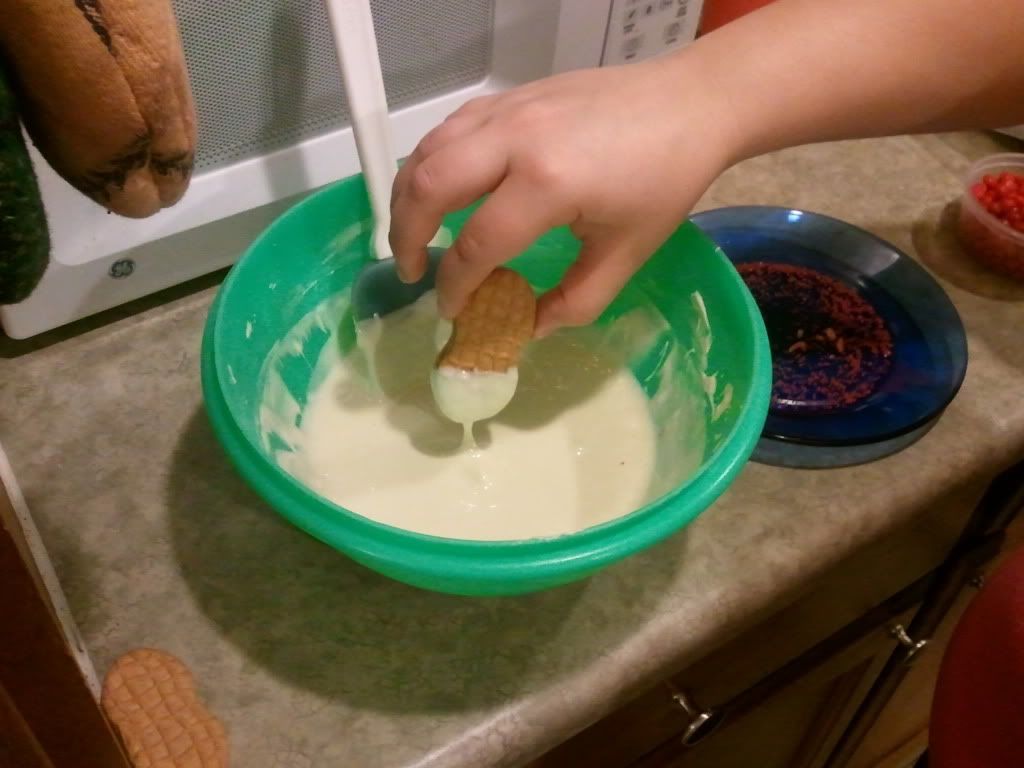 3. When fully melted begin dipping top 1/3 of cookie into the white chocolate. Then hold over a plate or bowl and sprinkle red deco sprinkles on top portion of dipped chocolate, leaving a small strip of white near the middle of cookie. this will be the "hat" of your Santa.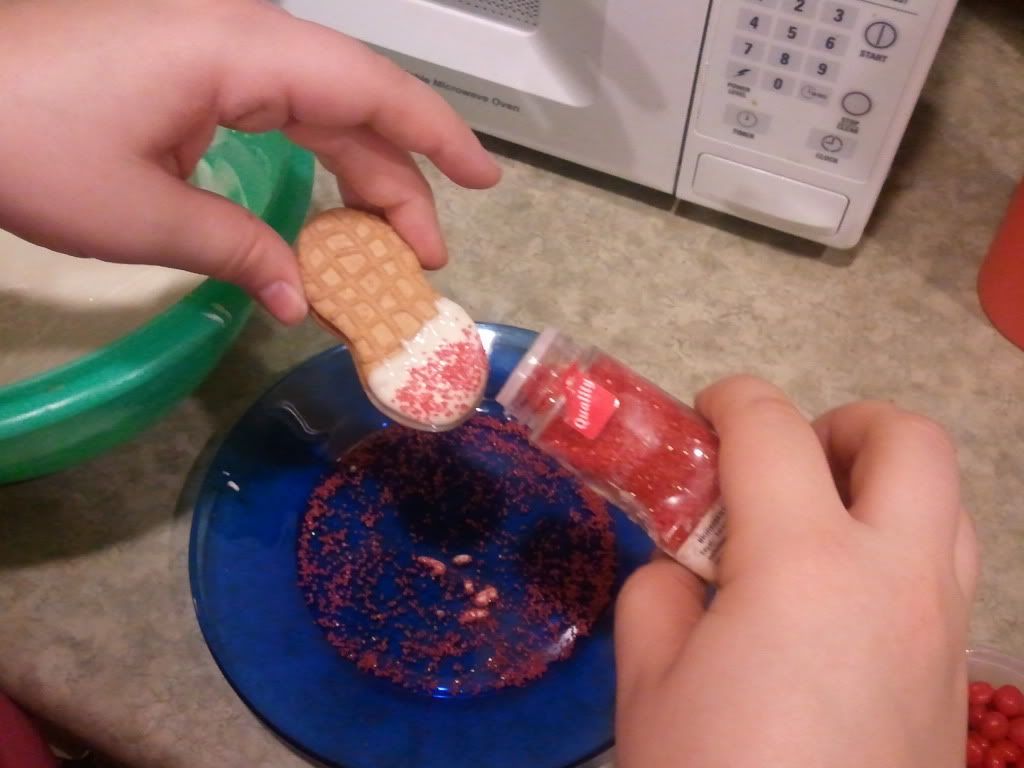 4. Then dip opposite 1/3 of cookie in white chocolate to create a "beard".
Please DO NOT try to do both dips at same time and THEN do sprinkles. Doing them separately keeps your Santa from having random red "hat fluff"
in his beard! ;)
5. Place cookie on a sheet of wax paper on a cookie sheet or cooling rack.
6. Use melted white chocolate to stick:
a white chocolate chip (that was earlier set aside) to bottom corner of hat to create the white-puffed tip of hat.

2 semi-sweet chips just below brim of hat for eyes.

1 Red Hot to top center of beard for nose.
For nose, I prefer to just stick into top of beard with no extra chocolate, but do what is easiest for you.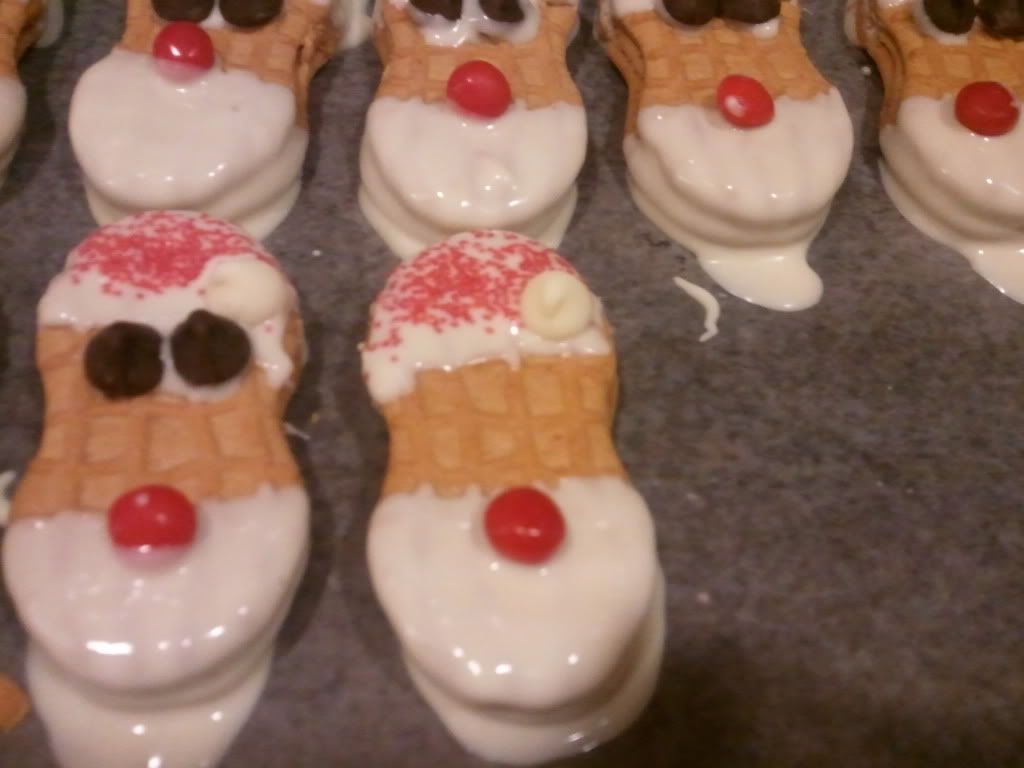 .
7. Keep decorated cookies on the wax papered cookie sheets/cooling racks & place in fridge for 20-30 minutes or so until white chocolate is COMPLETELY cooled & hardened.
**I forgot to add the eyes to this tray before I took this picture.
I just loved the circular look it had.**
You end up with the cutest, most delicious cookies on the table... & believe me when I say your friends & family will be sneaking into your fridge, hoping to find some you might have stashed away for yourself.. & begging you for more!!
Don't you love the holidays??
Don't forget to click here for the NEWEST
Daily Picture Post!!