Just taking a minute to pop in say hi and link up to Hoo are you!
(you can link up too! just click this button)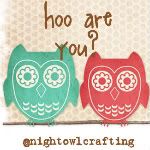 1. Are you fond of cooking?
I <3 to bake, But cooking is a new venture with me lately.
2. What kind of food do you prefer eating when you are out?
Pasta, breads, OOH! & Yummy Soups!!
3. Which do you prefer, sweet or salty?
Mostly sweet, but Ooooooh... TimsChips:Sweet Maui Onion Chips? Best of BOTH words! ...Yummy...
4. Where is the last place you ate out at?
Red Robins for my Birthday!
5. What's for dinner tonight?
I made a big dinner for everyone last night... TACOS!