...Holey Crappo I'm getting old...
She's an awesome lil chic with a sassy I-dun-care-what-you-think-cause-I'm-
ME
kinda attitude and a
goofball
outlook on life. Pair that with an
80's
inspired wardrobe & you got it made! She's my absolute all-time buddy
(Since day
#1
ya'll!)
& I can't WAIT to watch her grow even more!
She's not expecting this post, so hopefully its a good surprise!
Stop by
HER PAGE
, send her a birthday greeting,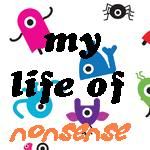 & help me make this the most
AWESOME
birthday ever!!
*It's us against the world, kid.*
HAPPY BIRTHDAY DANIELLE!!!