In the spirit of the summertime,
I'm going to re-visit an old challenge I did about 2 years ago, feel free to join in! :)
.....
You ever written a bucket list?
You know, the things you want to do in your life before you die?
If you haven't... ever wish ya did?
Today I'm issuing a challenge. To any and all who want to participate.
Write out

YOUR

bucket list.
Doesn't matter what is on it, or how many things. Just sit back with a piece of paper & a pen, & start writing down the things you want to do, be, have, see...whatever!
All that matters is that YOUR happy with it.
& It's doesn't have to be finished right away... You can keep adding & subtracting and adjusting for as long as you want! That's what makes this challenge so easy.
I started mine a few years ago, & I've been slowly ticking things off here & there... But I noticed when I looked at it the other day, that it really needs an update.
Some of my wants have changed... & that's okay, cause it's MY bucket list!
For those brave enough, I extend my challenge:
Share YOUR bucket list here, with all of us!
Just write about it on your blog, and link it back here. It could be one thing... or many!
You never know, you might read someone else's & think...
"Dang! I wanna do that!!"
....I will be posting my list in pieces over the next few weeks,
along with pointers, tips, & tricks on how to create your perfect list...
So, What do you think?
Wanna do the Bucket List Challenge with me??

*Anything crossed off, if possible will be made
into a link that will take you to "proof" :)



1. Be in 2 places at once.
2. Get a tattoo.
3. Pierce my tongue

.
4. Own a house
5. Own a car.
6. Travel to all 50 states.
7. Have a child.
8. Dye my hair blonde.
9. Go to back to school.
10. Get married.
Alright! As promised,
here are the first 10 from my bucket list
... More later!
Trying to start your bucket list?
Here are some tips to help get you started!
Write everything down that comes to your mind without worrying how you'll accomplish it
Don't worry about things that "might" keep you from doing the things on your list ...like money, and the time to do them. This is not the priority.
We all have bad habits and behaviors. So set yourself up for success

. Try to think of areas of your life that you feel need improvement.
Be willing to step out of your comfort zone. Staying in your comfort zone will never help you in pushing yourself to achieve those big life goals.



Good luck! More tips, trick & ideas to come...
Make sure you spread the word about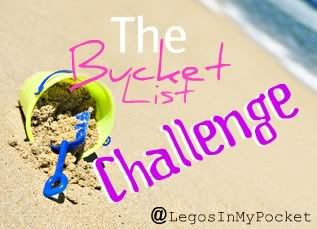 Challenge your friends, challenge your family,
Challenge YOURSELF.
& last but not least...
Enjoy!
Whats on YOUR Bucket list??